About Us
We are a carburetor rebuilding shop that was started in philadelphia back in 1944. The owner was a mechanic that went into the service during war who was trained in rebuilding carburetors for military vehicles. After the war ended he opened a shop of his own and started offering his services to all the local garages in the area, which lead to rebuilding carburetors for automotive dealerships and then for the city it self. In the late 60's the neighborhood changed, So he decided to move his business five miles across the bridge to Collingswood New Jersey, expanding our business to our neighboring states and supplying our customers with highest of quality Carburetor rebuilding . Now 71 years later we are expanding our reach once again to our new location in Blackwood New Jersey still to offer to you the same high, show car quality and workmanship we have already supplied to thousands of other satisfied customers and businesses.
We are a custom rebuilding shop that builds and restores original carburetors with all it's original parts one at a time. Our policy is not to exchange carburetors but to rebuild your carburetor so you have a carburetor that was originally matched for your vehicle. If you are looking for a carburetor rebuilder that is far above the rest in quality, workmanship, parts and customer service with one of the lowest comeback rates in the industry then were the one for you. With us rebuilding your carburetor you can be assured of quality workmanship every time with years or trouble free service.






Custom Rebuilding and Restoring
Carburetor USA
Since 1944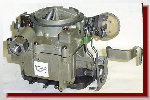 Rochester 2 Barrel
Rochester 2 barrel
Motorcraft 2 barrel
Carter wcfb 4 barrel

American owned and operated since 1944

CarburetorUSA.
CarburetorUSA.
CarburetorUSA.
CarburetorUSA.